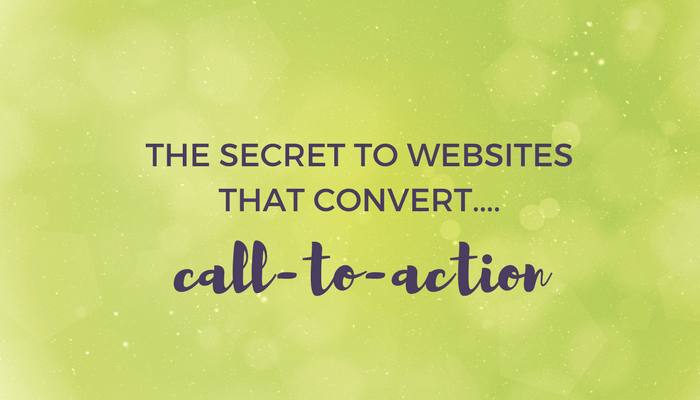 Problem: You aren't telling your website visitors what to do next.
Every page needs a Call-To-Action.
A call-to-action (CTA) is a button or link that prompts your website visitors to take action. It is, quite literally, a "call" to take an "action."
Just because you know the action you want visitors to take doesn't mean they do. Spell it out.
A call-to-action encourages visitors to perform the actions you want them to take on your site:
Contact you
Book a photo shoot
View your portfolio
Download an ebook
Sign up for a webinar
Get a coupon
Attend an event
Sign up for a free chat
Apply for a discovery session
A website needs to lead visitors in a direction—a direction you want them to take. Tell them where to go next. Don't leave them aimlessly wondering around your website. Similar to how a road uses road signs.
Decide on ONE action you want readers to take on each page of your site. Every page should have a call-to-action.
That call-to-action needs to be the main thing you want your visitor to do on that page. Use crystal clear wording so there's no confusion over what visitors should do.
Using a call-to-action will point them to the next logical step to create a nice "flow" through your site.
Yes, you can have multiple call-to-actions, but make sure the most important ones are the biggest and stand out.
I recommend placing your call-to-action in these three places:
Top right-hand corner of your website: This is the most valuable piece of real estate you have.
Footer of your website: Your footer is on every single page and users scroll to the bottom to find links that may not be in your main menu.
Within your copy: I recommend placing your call-to-action within the copy of your website on every single page to ensure it's not missed or forgotten about.
Putting your call-to-action in these three places will ensure you get more client leads filling up your inbox.
Overall, if you make these three changes to your website you should see an increase in leads and a decrease in your bounce rate.
Tips:
Use plenty of empty space around your CTAs, so they stand out and don't feel cluttered
Make them large enough to attract attention
When you have multiple CTAs together on a page, highlight the most important one (with a different color, or with a different font weight)
Don't give visitors too many options; that will only confuse them even more
The wording is critical. Use simple wording that clearly specifies the action, usually starting with a verb, and make it clear just what clicking a link or button will lead to.
Avoid CTAs such as "Click Here". Here are some better choices:
Get Started
Download Now
Learn More
Buy Now
Question: What is the #1 action you want website visitors to take on your Home Page? Is it clearly indicated with a CTA?