Branding, Website & Content Strategy, SEO, Information Architecture, User Experience, Website Design, Custom WordPress Development, Website Support
I'm so excited to introduce you to Carolyn Rodenberg's new brand and WordPress website. Carolyn offers Somatic Psychotherapy, Clinical Hypnosis and nature retreats. She helps her clients be one with their body and provides holistic relief from physical and emotional pain.
I knew on our very first call together that I wanted to work with her. It wasn't just the warmth that she radiates or the beautiful laughter that just bubbles up from inside her. I was also drawn to her commitment to helping people and her love of nature. As soon as she said the word 'forest bathing'* my ears perked up and she had my full attention.
* In Japan, they practice something called forest bathing, or shinrin-yoku. Shinrin in Japanese means "forest," and yoku means "bath." So shinrin-yoku means bathing in the forest atmosphere or taking in the forest through our senses. Every week, once or twice a week I go trail running in Discovery Park and forest bathe. It's kinda like running through the forest while meditating among the trees, which makes me happier, more creative and less stressed.
The Challenge:
After DIY-ing it for years, Carolyn came to me for a complete branding and website overhaul.
Her current website didn't feel like her and wasn't allowing her to grow. So she came to me to make sure everything about her website inspires and motivates people to live more fully in their body, aligning with their mind, heart, and soul, just like she does. She was ready to put her best foot forward with a more clean, polished, and professional look - one that she was proud to point people to!
Branding:
With a deep love for the outdoors, I created a color palette for Carolyn with grounded earth tones.
I combined the different elements of her brand adjectives (comforting engaging, creative, challenging, earthy) and the colors she loves (green, brown, bronze, blue and silver).
I focused on shades of brown and green because they come from the natural world around us and can be seen as warm, friendly and inviting.
I selected hues that feel very natural, earthy and connected. I was going for color choices that were soft and airy, yet earthy and strong without being too bold.
Her color palette combines Carolyn's love of nature as well as the feeling of warmth, truth, and kindness that she exudes.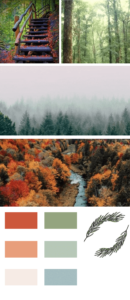 The Solution:
We brought everything together into a user-friendly website that showcases her story, her work, and what she does best.
Her gorgeous website is an authoritative online presence where she can send her dream clients and have total confidence that her website is doing the selling for her. It is a website that helps her stand out in her industry, feel confident about her online presence, bring in new leads and sets her up as the authority that she is.
If you haven't already… go check out Carolyn's website. It's warm, friendly and inviting...and full of her personality!
Ready for a website that can multiply your impact and income? Schedule your complimentary consultation now.