Branding, Website & Content Strategy, SEO, Information Architecture, User Experience, Website Design, Custom WordPress Development, Website Support
I absolutely loved working with Madeline on this project.
Madeline founded Psychic Awakenings in 2006. It is her way of healing the planet, one psychic student at a time. She loves helping more people rediscover their own spiritual abilities and the purpose of their own lives.
The Challenge:
It had been years since the Psychic Awakenings site had been updated, and it was no longer relevant from a user perspective.
Madeline wanted a full web transformation — one that created a strong school identity and an online experience that showcased Psychic Awakenings' unique mission and offerings. Beyond visual beauty, the site had to function well for its users, enabling them to access relevant content and intuitively complete tasks on the site.
Branding:
Madeline is an example of someone who truly cares for others and uses her work to foster growth and change so I wanted her brand to have a feeling of warmth, truth, and kindness. While I didn't want her brand to feel too "woo-woo", I did want to make sure it had a spark and hint of magic to it.
The five words that Madeline chose to describe how she'd like her brand to look and feel were; Spiritual, Empowered, Genuine, Grounded/Safe, and Approachable.
The colors and fonts that we selected feel authentic, connected, and professional. We focused on purple hues because purple is associated with wisdom and success, appeals to her primary audience (women), and just happens to be Madeline's favorite color.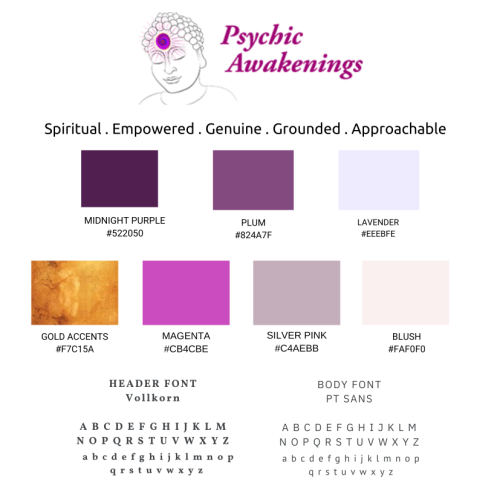 The Solution:
In order to establish the ideal user journey and to give users the best experience, we had to understand them first. Why do they come to the website? These and other foundational questions framed our approach to creating a strategic, user-centric web design that effectively communicates Psychic Awakening's mission and vision.
Her gorgeous website is an authoritative online presence where she can send her dream clients and have total confidence that her website is doing the selling for her. It is a website that helps her stand out in her industry, feel confident about her online presence, bring in new leads, and sets her up as the authority that she is.
If you haven't already, go check out Madeline's website...and take a class - I can tell you from personal experience that they are great.
Ready for a website that can multiply your impact and income? Schedule your complimentary consultation now.